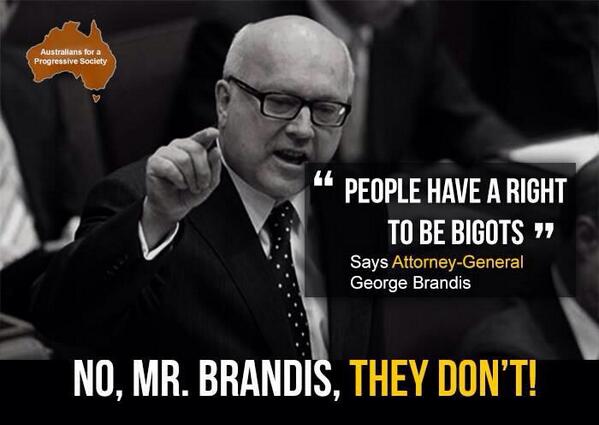 The Coalition promised before the 2013 election to repeal section 18C of the Racial Discrimination Act in its current form, but indigenous Liberal MP Ken Wyatt has threatened to cross the floor to oppose the change.
Senator Brandis told the Senate on Monday he would soon be bringing forward an amendment that would ensure the Bolt case would never be repeated.
Never again in Australia will we have a situation in which a person may be taken to court for expressing a political opinion, Senator Brandis said in response to a question from indigenous Labor Senator Nova Peris.
Senator Brandis said the problem with the current law was that it dealt with racial vilification in the wrong way by political censorship.
People do have a right to be bigots, you know, Senator Brandis said.
"People have the right to say things that other people would find insulting, offensive or bigoted."
Asked in the House of Representatives about Senator Brandis' comments, Prime Minister Tony Abbott said it was in the nature of free speech that sometimes some people will not like it.
Reference: http://www.smh.com.au/federal-politics/political-news/attorneygeneral-george-brandis-people-do-have-a-right-to-be-bigots-20140324-35dj3.html
See Also: http://lazerzap.com/cgi-bin/wiki.pl/George_Brandis
Attorney-General George Brandis considers copyright law changes to target internet piracy.
Senator Brandis is considering asking internet service providers (ISPs) to warn customers who illegally download, or block sites where content can be downloaded illegally.
"This may include looking carefully at the merits of a scheme whereby ISPs are required to issue graduated warnings to consumers who are using websites to facilitate piracy," he said.
"Another option that some stakeholders have raised with me is to provide the Federal Court with explicit powers to provide for third party injunctions against ISPs, which will ultimately require ISPs to 'take down' websites hosting infringing content."
The Attorney-General says he recognises it is a complex reform and there are issues about how the costs of such a scheme are shared between rights holders and ISPs.
John Stanton, head of the Communications Alliance, which represents ISPs, says blocking sites is possible but raises questions.
"It raises all sorts of questions about the freedom of the internet and access to sites, but the Attorney-General talked about the potential for court injunctions requiring ISPs to block access and certainly ISPs will always respond to court orders and comply with them," he said.
"Certainly [there is a] risk, firstly that you end up blocking things that oughtn't be blocked, that you reduce the utility of the internet, and so it's by no means a simple fix.
"There can be unintended consequences by moving in that direction."
ISPs say studies show such schemes where customers are given increasingly severe warnings do not work.
Reference: http://www.abc.net.au/news/2014-02-14/george-brandis-federal-government-to-target-internet-piracy/5261404